On-site Links
What's New
Please make sure your bookmarks are updated for this site... the Rootsweb site is no longer being updated!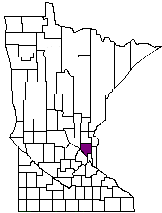 Welcome!
My name is MaryAlice Schwanke, I am the coordinator for the Anoka County MNGenWeb Project.
Anoka County is located in east central Minnesota just north/northwest of the twin cities of Minneapolis and St Paul and was organized in 1857. The city of Anoka is the county seat and is known as the "Halloween Capital of the World", It is believed that in 1920 Anoka held the first "Halloween Festival".
Anoka County is bordered by the counties of Isanti to the north, Sherburne to the west, Chisago and Washington to the east, and Hennepin and Ramsey to the south.

MNGenWeb and USGenWeb
In March and April of 1996, a group of genealogists organized the Kentucky Comprehensive Genealogy Database. The idea was to provide a single entry point for all counties in Kentucky where collected databases would be stored. In addition, the databases would be indexed and cross-linked, so that even if an individual was found in more than one county, they could be located in the index. This lead to the USGenWeb of which Minnesota has been proud to be a part of since July 1996.
How to Volunteer
Volunteering could be as easy as offering to do lookups in material you possess, or going to the local court house, church or library to find information. Coordinators are always looking for people to transcribe materials, and we encourage fellow researchers to post queries and submit records to the archives. And if you're looking for something more, why not become a coordinator? You do not need to live in the county you host! For more information on volunteering please visit the MNGenWeb or USGenWeb.